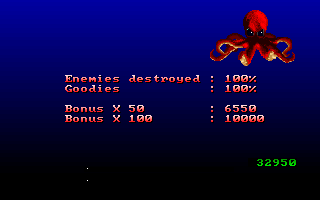 The stats screen is shown between levels. This screen displays the following information and awards bonus points for the completed level:
Percentage of enemies destroyed.
Percentage of items ("goodies") collected.
Units of air remaining multiplied by 50.
Units of shield remaining multiplied by 100.
The air and shield units calculated for bonus points depends on the difficulty options:
On Easy, there are max. 49 units each (2450 points for air, 4900 points for shield).
On Normal, there are max. 74 units each (3700 points for air, 7400 points for shield).
On Hard or v1.0, there are max. 149 units each (7450 points for air, 149000 points for shield).
Ad blocker interference detected!
Wikia is a free-to-use site that makes money from advertising. We have a modified experience for viewers using ad blockers

Wikia is not accessible if you've made further modifications. Remove the custom ad blocker rule(s) and the page will load as expected.